Capacity building is the process by which individuals and organisations obtain, improve, retain the skills needed to do their jobs or to a greater capacity.
Courtville business solutions Nigeria's foremost E-business and advisory company and the first in its sector to be listed on the Nigerian stock exchange has continued to build capacity of its workforce.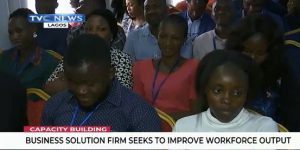 The aim is to prepare competent professionals that can take the firm to the desire position.
Arrow heads of the business solution company say this is part of their succession plan for the business empire.
For the president of the chartered institute of bankers of Nigeria, Uche Olowu the importance of building a stabilised information technology system in the financial services sector is a welcome development .
Participants speak on their experience at the management training.
The aim of this program is to create an enabling environment for participants and prepare them for senior roles within the organisation.