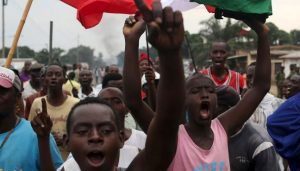 An official of Burundi's ruling party was sentenced to three years in jail on Monday.
for urging government supporters to throw opponents into a lake ahead of a May 17 referendum on extending President Pierre Nkurunziza's term in office.
Authorities in Burundi arrested Melchiade Nzopfabarushe after he made the comments on Sunday at a party rally in his native village.
Nzopfabarushe was summarily convicted of making a "verbal threat against the population, inciting people to revolt against the administration and the spreading of rumors" in a rare punishment for a ruling party official.
His lawyer told reporters his client would appeal against the judgment.
The incident came amid increased political jitters in Burundi, whose modern history has been marred by ethnically-charged civil war.
The Justice Ministry spokesman did not immediately reply to a request for comment.
Nearly 430,000 people, including opposition politicians, have fled the East African nation of 10.5 million people since Nkurunziza won a third term in a 2015 election that led to violent clashes. His foes said he had no right to run again.