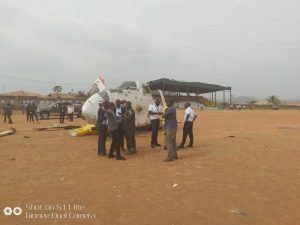 A chopper conveying Vice President Yemi Osinbajo to a campaign rally in Kogi State, crash landed in Kabba, Kogi State.
According to a tweet by the Vice President's spokesman, Laolu Akande, the VP and all the occupants of the chopper are safe. Akande said the VP continued on his campaign trip after the incident.
"VP Osinbajo's Chopper crash lands in Kabba, but he and the entire crew safe. He is continuing with his engagements and plans for the day in Kogi State," Akande tweeted.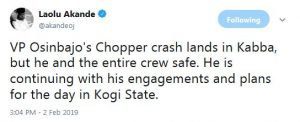 TVC News gathered that the Media Aide, Laolu Akande and Senator Babafemi Ojudu were on board. It is a six seater helicopter and there was no casualty; everyone aboard survived.