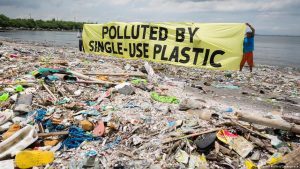 A U.N. report said on Tuesday, U.N. World Environment Day says less than a 10th of all the plastic ever made has been recycled, and governments should consider banning or taxing single-use bags or food containers to stem a tide of pollution.
The study, billed as the most comprehensive review of government action to curb single-use plastics, said up to 5 trillion plastic bags were used worldwide each year. Spread out side-by-side, they would cover an area twice the size of France.
"The scourge of plastic has reached every corner of the Earth," Erik Solheim, head of U.N. Environment, wrote in the report. "If you can't reuse it, refuse it."
"Only 9 percent of the 9 billion tonnes of plastic the world has ever produced has been recycled," the report said. "Most ends up in landfills, dumps or in the environment."
China is the biggest source of plastic packaging waste, ahead of the European Union and the United States. Per capita, however, the United States produces most, ahead of Japan and the EU.
But there are signs of action to limit plastic pollution, which harms life in the oceans, contaminates soils and releases toxic chemicals when burnt.
Elisa Tonda, who leads U.N. Environment's Sustainable Lifestyle program, said more than 60 countries had bans or charges on single-use plastics such as bags or polystyrene containers.
Thirty percent of countries found sharp drops in plastic bag consumption in the first year after imposing restrictions, while 20 percent saw little or no change. But in half the cases, governments failed to gauge the effects of restrictions, the report said.
Among its recommendations, the report called for better sorting of waste and recycling, economic incentives to promote eco-friendly alternatives to plastics, education of consumers and promotion of reusable products.
The report also found other cultural side-effects.
In South Africa, plastic litter is jokingly referred to as "the new national flower". In Ireland, windblown plastic bags caught in trees are referred to as "witch's knickers".