Governor Samuel Ortom has set up an investigative panel to look into the illegal disposal of liquid waste into the River Benue by Pure Biotech company Limited.
The establishment of this panel is coming following compliant from residents about the pollution of the River Benue with Cassava Waste by this company which is located at Kilometer 10 Gboko Road.
Mayowa Okunato reports that the committee is expected to report its findings in two days.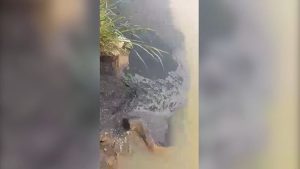 A video recording was made by a resident of the community showing liquid waste released into the River Benue.
An act believed to affect the quality of water and aquatic life
Residents lament on the possible danger they foresee.
After being brought to his attention, the State Governor, immediately set up a committee to investigate the veracity of the complaints.
Governor Ortom further disputes claims that the said company is owned by him, insisting he does not own shares in the company.
Although the company representatives refused to speak to newsmen, the chairman of the committee reassured the people of Benue of a restored healthy environment.
The committee is headed by the Commissioner for Water Resources and Environment, Dr-Godwin Emmanuel Oyiwona as Chairman with Commissioner for Agriculture and Natural Resources, Dr. Terna-kester Kyenge, Commissioner for Industry and Cooperatives, Barr. Rodney Agbatar as members.
Others members are two representatives of Benue Hike, Tourism and Conservation Foundation, Dr. Sewuese Apeverga and Barr. Ayua Sesugh, representatives of the National Environmental Standards Regulatory Agency, NESREA and the Director of Environment, Mr. T. R. Azaagee who is to serve as Secretary of the Committee.
Governor Ortom who inaugurated the committee Monday, April 17th, 2023 at the Benue Peoples House, Makurdi directed the committee to immediately swing into action and submit an interim report on their findings within two days.
Governor Ortom mandated the committee to, as part of its terms of reference, assess the parking arrangement within and outside of premises of the plant along the federal highway, noting that it should be captured in its long term report.
He further directed the committee to also extend a similar investigation to another ethanol plant located in Zaki Biam in Ukum Local Government Area to also make findings on its waste management.