The Nasarawa State government has appealed for more intervention from the Ministry of Humanitarian Affairs, Disaster Management and Social development to cope with the influx of displaced persons.
The plea was made during an official visit by governor Abdullahi Sule to the Minister, Sadiyat Umar Farouq
The governor said his administration is not resting on its oars in addressing the resultant humanitarian issues confronting the state.
He added that the State has taken the lead by introducing the child protection law and banning street begging by children.
Governor Abdullahi Sule, however, sought help in resettling the Internally displaced it is hosting and also educate about 80,000 almajiris in the state.
He wants other States to take seriously the challenge of educating almajiri children within their domains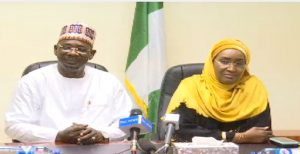 The Governor assured minister that the state was fully prepared to tackle the flooding that has been forecast for this year, given the fact that the state is agriculturally dependant
On her part, the Minister of Humanitarian Affairs, Disaster Management and Social Development, Sadiyat Umar Farouq said her ministry has taken some efforts in addressing the challenges.
Educating Almajiri children in Nigeria is an issue that has generated so much debate.
Concerted efforts by States would go a long way to help reduce the number of out of school children and realise the sustainable development goals on education and eradication of poverty.