Kano State government said it is working to integrate the Almajiris into the modern Education System as part of its efforts towards reducing the number of out-school-children in the state.
Governor Abdullahi Ganduje who made this known in Abuja during a working visit to the Minister of Education, says the move will help reduce the rate of out of school children in the State.
Helen Osamede-Akins reports that Almajiri Education is a system of Islamic education practiced in northern Nigeria. It is derived from an Arabic word, rendered "al-Muhajirun" in English transliteration, meaning a person who leaves his home in search of Islamic knowledge.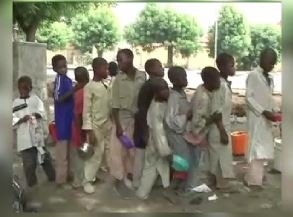 Some parents in the north enroll their wards in this kind of educational system as a basic form of education.
Advertisement

Many analysts have condemned this practice for its lack of a planned curriculum, and poor professional handling of the pupils for effective learning.
But the Kano state government is trying to change the narrative by ensuring that the regular school curriculum is integrated into the the Almajeri
school system.
Some Nigerians have described the move as a step in the right direction. They say when implemented, it will help reduce the number of out of school
children in the country.
They want governors from other northern states to borrow a leaf from this and make education a Priority in their region.