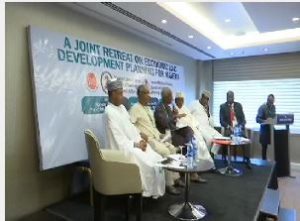 The Senate Committee on National planning and Economic Affairs is holding a two day retreat in Abuja on Economic and Development Planning in Nigeria.
The Joint retreat brings together key players in the planning sector to devise ideas on a National development plan for sustainable growth.
Correspondent, Tijesu Adeoye reports that for the first time since 1999, the National Assembly concluded all necessary considerations of the 2020 appropriation bill, and passed it before the start of a new fiscal year.
This automatically returned the country to a January to December budget cycle. Having achieved this remarkable milestone, Nigerians are now asking if this could be sustained going  forward.
This has placed on government the task of devising a means of ensuring sustainability and smooth implementation of the 2020 budget .
At a joint retreat, panelists hammered on the importance of National planning, as it is regarded a potent tool to drive economic growth and development.  They all agreed that it is important that there is maximum cooperation at all levels of government to deliver an achievable and sustainable economic plan.
The federal government, however guaranteed its commitment to ensuring  collaboration with other arms of government to achieve this target .