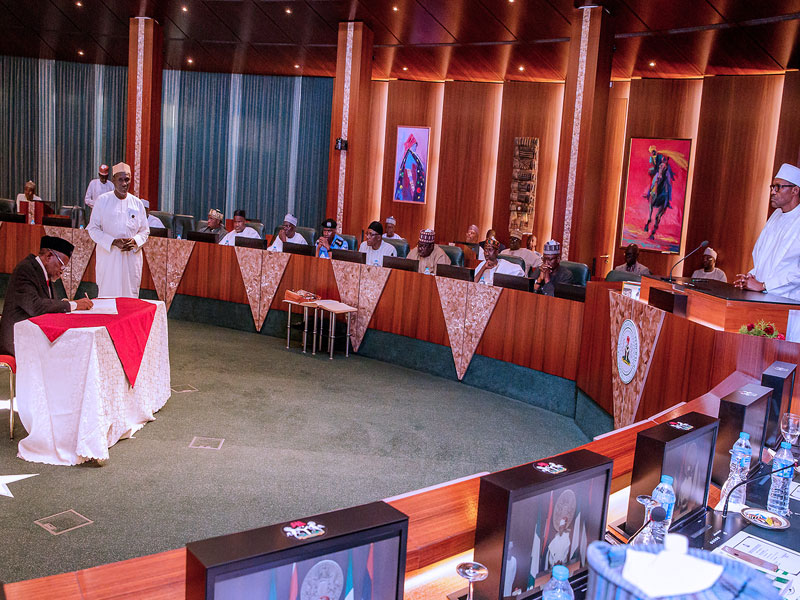 The minister of foreign Affairs, Geoffrey Onyeama, said Nigeria leveraged on foreign policies across the world especially in the ECOWAS sub region to help realise the President's priorities on Security, governance and wealth creation.
The minister disclosed in a press briefing held before the valedictory FEC meeting. He also said the persona of the President helped in giving Nigeria the needed brand in attracting foreign direct investment.
Moyo Thomas reports that  as the current administration rounds off its tenure, Ministers are assessing the performance of ministries under their care in the period they held sway.
The foreign affairs minister believes Nigeria's foreign policy took on a new direction that reflected the persona of President Muhammadu Buhari
Due to this, Nigeria was able to secure a lot of Bilateral and Multilateral ties, leveraging on diplomatic policies and soft negotiations.
One of the challenges the country faces at the moment is the high number of Nigerians seeking to leave the country It has reached a stage where other countries have started reacting to the irregular migration of Nigerians especially the United States and  Canada
Statistics says about 300,000 Nigerian overstayed their Visas in the United States in 2018 alone It is one of the reasons the country changed its policy on interview waivers for Nigerians.
Mr Onyeama discloses that the Foreign Affairs Ministry has been beset with funding challenges which made the Ministry downsize on its structure in order to operate optimally
This led to the closure of 3 foreign missions in Czech Republic,  Srilanka and Serbia while the mission in Ukraine was significantly reduced.  He said the Ministry is very satisfied with what it has achieved and appreciates the President for his support