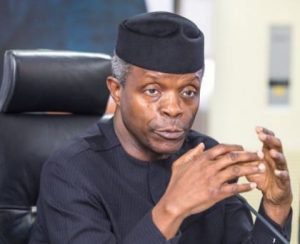 Acting President Yemi Osinbajo is seeking the National Assembly's approval to re-allocate 135 billion naira in the 2017 budget to some exigent projects.
His request which was written to both chambers of the assembly was read at the House of Representatives this Thursday.
The letter details that 3.1 billion naira will be re-allocated from the ministry of works and housing, N33 billion from the ministry of transportation; 14
billion from the office of the secretary of the government of the federation, 5 billion from the office of the national security adviser, and another 5 billion from the ministry of science and technology.
3 billion naira will also be vired from the ministry of defence, same amount from the federal capital territory administration, and 1 billion naira from the ministry of health.