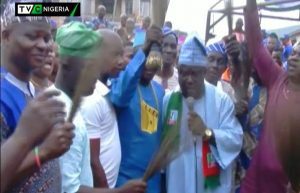 A local politician in Ogun State, Rotimi Ogundele led hundreds of members from his political party, UPN, to join the ruling All Progressives Congress in the State.
Ogundele who is popularly known as "Political Solution" said they embraced the APC due to the transformational leadership of the state governor and the federal government in Abuja.
He appealed to other opposition party leaders in Ogun State not to waste their time again, instead they should join the winning team and be part of the success story.