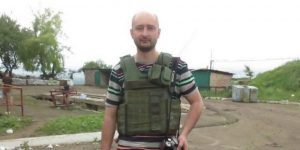 Arkady Babchenko, the Russian journalist reportedly murdered in Kiev, faked his death as part of a sting operation to "expose Russian agents" who were plotting his killing, Ukrainian officials have said.
The 41-year-old appeared at a press conference alongside the head of the Ukrainian security service on Wednesday afternoon.
Mr Babchenko, who was visibly tearful, said: "Special apologies to my wife. Olechka, I am sorry, but there were no options here.
"The operation took two months to prepare. I was told a month ago. As a result of the operation, one person has been captured, he is being held."
Vasily Gritsak, head of the Ukrainian Security Service (SBU), said the sting had been set up in order to thwart a genuine plot against Mr Babchenko's life.
"I can now reveal details of the SBU special operation, thanks to which we were able not only to thwart a cynical provocation, but also document the Russian special service's preparations for this low crime," Mr Gritsak told journalists in Kiev.
"I could offer my condolences to to Arkady Babchenko's family, but I will not. On the contrary, today I congratulate Arkady on his third birthday in this hall," he added before Mr Babchenko entered the room.
Mr Babchenko has previously described a narrow escape with death while reporting the war in Ukraine in 2014 as his "second birthday."
Mr Babchenko's death was announced late on Tuesday night and sent shockwaves through the Russian journalistic community.
Mr Babchenko, known for his sharp criticism of Vladimir Putin, was reported to have been found by his wife in a pool of blood at their Kiev apartment after apparently having been shot in the back.
He died in the ambulance on the way to hospital, Ukrainian police earlier said.
His murder had been ordered by Russian security services, the head of Ukraine's security service had earlier claimed.
"According to information received by the Ukrainian security service, the killing of Russian journalist Arkady Babchenko was ordered by the Russian security services themselves," Mr Gritsak told the news conference