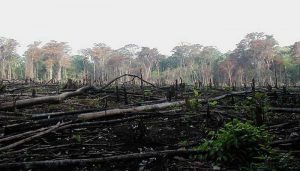 Civil society groups have kicked against the planned resumption of oil exploration in Ogoni land in Rivers State.
The groups warned that going ahead with such plans would only lead to further environmental pollution in the area.
They took this position at an event in port Harcourt to mark 6 years since the release of the United Nations Environmental Program, UNEP report on Ogoni.
According to the report, people in their thousands have died while millions of others remain at risk in Ogoni land due to environmental pollution caused by oil exploration in the area.
Activists at the event were concerned that 6 years after the UNEP report was released, not much has been achieved in environmental restoration.
And as if the slow pace of implementation of the UNEP report is not enough, the civil society groups alleged that there are plans by the major culprit of environmental pollution in Ogoni land to resume oil exploration in the area.
For now civil society groups and environmentalists have identified the provision of portable drinking water for Ogoni people as one of the emergency measures that must be taken ahead of the commencement of the cleanup exercise.