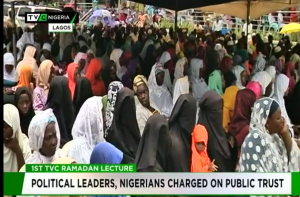 Nigerians and their leaders have been advised to imbibe the principle of trust in order to see Nigeria in its rightful place among nations. This was the main issue discussed at the first annual Ramadan lecture of TVC's Muslim community.
According to guest speakers at the maiden programme, the loss of public trust in the social, economic and political sphere has been identified as the bane of the nation's development.
The Ramadan lecture was organised to commemorate the tenth year of TVC hosting programmes during Ramadan. The lecture tagged "Public Trust; An Obligation for Credible Leadership" had various Islamic scholars speaking on the major reasons for public distrust and panacea to the menace.
TVC Communications is the parent body of TVC News, TVC Entertainment, Max 102.3FM an Adaba FM, with over ten years of quality broadcasting operation.