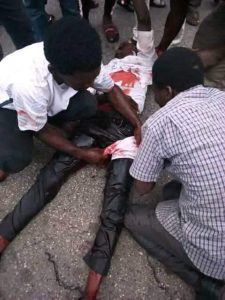 Reporters Without Borders (RSF) has called for an investigation into the use of live rounds to disperse a protest yesterday in the Nigerian capital, Abuja, resulting in the death of a young TV reporter.
At least six protesters and a police officer were also reportedly killed.
The media fatality was Precious Owolabi, a trainee journalist under National Youth Service Corps with one of Nigeria's privately owned television station. He was hit by a bullet while covering the protest and died later in hospital.
"Firing on a journalist while he is reporting is a very serious act and the President's comforting words to the family will not suffice to render justice to this young reporter gunned down in the course of his work," said Arnaud Froger, the Head of RSF's Africa desk.
He called for a rapid investigation to identify the person who fired the shot. Impunity, he said, must not prevail.
Until yesterday, no journalist had been killed in Nigeria since 2012."