U.S President Donald Trump has announced that Dan Coats, the nation's top intelligence official would leave his post next month while Republican congressman John Ratcliffe would be nominated to replace him.
The announcement was made via his Twitter handle on Sunday
"I am pleased to announce that highly respected Congressman John Ratcliffe of Texas will be nominated by me to be the Director of National Intelligence. A former U.S. Attorney, John will lead and inspire greatness for the Country he loves," the president tweeted, adding that Coats' (inset) last day will be Aug. 15.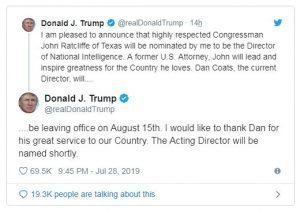 Coats, the current U.S. director of national intelligence has clashed with Trump over assessments involving Russia, Iran and North Korea.
The post of director of national intelligence, created after the Sept. 11, 2001 attacks on the United States, oversees the 17 U.S. civilian and military intelligence agencies, including the Central Intelligence Agency.
Ratcliffe is a former U.S. attorney and mayor of Heath, Texas, a Dallas suburb. He also worked at a law firm run by former attorney general John Ashcroft, a Missouri conservative.