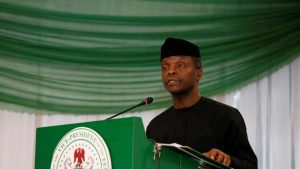 Acting President Yemi Osinbajo has  condemned  both the agitations for secession by some South Easterners  and the ultimatum given by some some Northern youths for South Easterners to leave the northern states, describing  them  as a violation of the laws governing Nigeria.
He made this condemnation at an engagement meeting with traditional rulers from the south East
Osinbajo said it was necessary to have  this meeting with the traditional rulers considering the unique position they  occupy in society.
He assured that the Federal government is committed to listening to all sides and considering the reasons for the agitations with a view to doing justice by all persons regardless of where they come from.