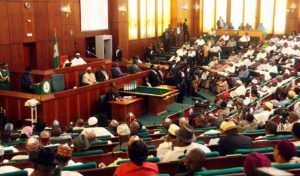 A group of National Assembly Members known as the Parliamentary support group has reaffirmed its support for the President
The statement which was written by Abdulmumin Jibrin on behalf of the group, states that the National Assembly should look inward and address the issue of suffocating Senators and members with contrary opinion.
The group says most of the issues raised concerning the fight against corruption, insecurity and the rule of law, have been severally discussed in the Senate and the House, with various resolutions passed.
It wants Nass to exercise caution not to over heat the polity with statements that are capable of dividing the country.
The group was formed in March by pro-Buhari senators after a face-off with their colleagues on the amendment to the electoral act.
The Senate President, Bukola Saraki, on Thursday ordered the immediate disbandment of a group, Parliamentary Support Group, in the senate
It is not clear if Mr Saraki, as senate president, has such constitutional powers to disband a freely formed group, especially as the constitution guarantees freedom of association. However, none of the members of the pro-Buhari group, raised objection when Mr. Saraki gave the directive.