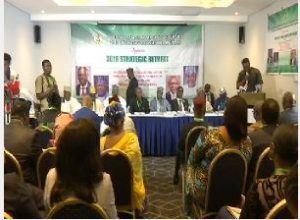 The Federal Ministry of Special Duties and Intergovernmental Affairs has launched a four-year plan to execute its mandate.
The retreat, held in Lagos, was attended by top government functionaries, stakeholders and policy makers who sought to develop a medium-term strategic plan for the ministry newly created by President Buhari.
Participants believed the forum will also provide a sense of direction for the ministry.
Director-General, National Lottery Regulatory Commission, Lanre Gbajabiamila, explained its collaboration with the ministry of special duties is already providing jobs for young persons in the country.
It is hoped that both Public and private sectors will lend their support where necessary to assist the ministry successfully implement its four-year plan.