A legendary WWE wrestler has discovered his daughter is not his biological child – and promptly took to social media to ask fans if it's OK to have sex with her.
Marty Jannetty, who was Shawn Michaels' partner in the iconic tag-team The Rockers, said in a Facebook post that he and his daughter Bianca had been fighting the urge to become lovers – but that the results of a DNA test could change all that.
Jannetty, 57, posted a picture of Bianca, who appears to be in her 20s, to Facebook and wrote: "Just did a DNA [test], she's NOT my daughter, we both held out of sex because you don't do that, but now we ain't."
Hard-partying Jannetty, known for his chaotic lifestyle outside the ring, only learned of Bianca's existence in 2014, other Facebook posts reveal.
He vowed to turn his life around after she made contact with the New Jersey-based athlete whose career peaked in the late 80s/early 90s as the partner, and later rival, of 'The Heartbreak Kid' Shawn Michaels.
Michaels would go on to become one of WWF/WWE's all time greats while Jannetty's career floundered somewhat – although he did beat Michaels for the Intercontinental Championship in 1992.
By 2013 he was working for Pennsylvania-based wrestling promotion Chikara Pro. He currently appears at a 'Party with Marty' events at drinking establishments around the US, including Pistol Pete's Bar and Grill in Norwich, Connecticut.
His full Facebook message read: "If you loves me as much as I loves you, you will give your opinion, just did DNA (22 weeks ago), she's NOT my daughter, we both held out of sex because you don't do that, but now we ain't?
"From a guy's side, SHE'S F**KING HOT, but she's been [my] daughter. I want to, but I can't get past that."
This isn't the first time Jannetty has pondered keeping it in the family. In a 2013 interview with Kayfabe Commentaries, he admitted his first sexual experience was with a niece or cousin at the age of 12.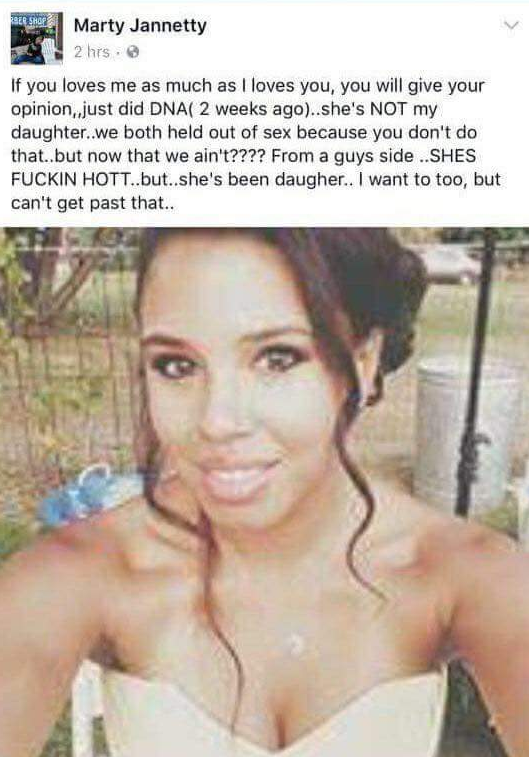 This article was first published on August 25, 2017