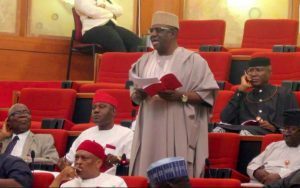 Senator Matthew Urhoghide, representing Edo South senatorial district has moved a motion for the invocation of Section 143 of the 1999 Constitution which deals with the impeachment of the president due to the approval of $496mn for the purchase of super Tucano fighter jets by President Muhammadu Buhari without National Assembly approval.
The motion was moved at Thursday's plenary where he clearly disclosed that President Buhari had breached the constitutional rules of appropriation hence section 143 should immediately be invoked.
He was also backed by Senator Chukwuka Utazi representing Enugu North who says President Buhari should immediately be impeached.
The Senate then referred to its Judiciary committee for legal advice on the motion for the impeachment of the President with a report expected back next week Wednesday on whether President Muhammadu Buhari breached the constitution or not and what the Senate's response should be like.