Japanese-French designer Kenzō Takada famous for creating the international luxurious fashion house Kenzo has died.
The Japanese designer died in Paris on Sunday due to Covid-19 related complications, he was aged 81.
"It is with immense sadness that the brand K-3 announces the loss of its celebrated artistic director, Kenzo Takada. The world-renowned designer passed away on October 4th, 2020 due to Covid-19 related complications," Spokesperson for the brand said in a statement.
Kenzo Takada took over the fashion industry in 1970 with the debut of his eponymous brand.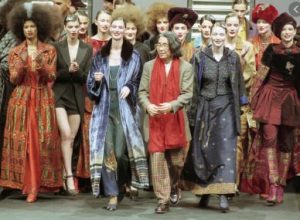 Known for his colourful motifs and original silhouettes, which mixed inspirations from Japan, such as the kimono, with other cuts, Takada also branched into perfumes and skincare lines, helping his business boom.
Mr. Takada had retired from his eponymous label several decades ago, however, after selling it to LVMH, the world's biggest luxury group, in the early 1990s.
LVMH's Chairman and CEO Bernard Arnault said in a statement that Kenzo had "infused into fashion a tone of poetic lightness and sweet freedom which inspired many designers after him".