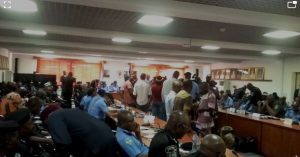 The Inspector General of Police, Mohammed Adamu has met with Senior officers of the force to review  the prevailing security situation in the country.
The meeting involved strategies for talking the security challenges.
Key among security challenges the country is faced with are kidnapping, violent crime and rampaging by the now proscribed Islamic Movement of Nigeria…
TVC News Correspondent, Sifon Esien who monitored the commencement of the meeting before it went into a closed-door session, reports that a minute silence was observed in honor of DCP Umar and Precious Owolabi killed during a violent clash between the police and members of the Islamic Movement of Nigeria
Reviewing the force activities, IGP Mohammed Adamu said the security strategy adopted by the police is working. The community policing approach which fosters close ties with members of the community in gathering Intelligence has aided police operation.
An average of 50 community policing operatives will be recruited from all the local council areas in the country. The community police constables will operate within the community where they reside.
The IGP stressed that the activities of the Islamic Movement in Nigeria poses great threat to the country's security. The offence of the IMN, according to the police chief including pledging allegiance to a foreign government, setting up of a para military guards, invading court premises, illegally blocking highways, incitement by the use of hate speeches, refusal to recognize the Nigerian Constitution.
The Police chief blamed IMN for the death of the DCP Umar and Precious Owolabi. He described the activities of the group as rebellion.
IGP Adamu emphasized that the Islamic Movement in Nigeria is a terrorist group and anyone who has any dealing with them would be seen as terrorists.
He said 63 IMN members are in police custody, should they hit the streets again in a demonstration, they would be arrested and charged for terrorism—IGP Mohammed Adamu.