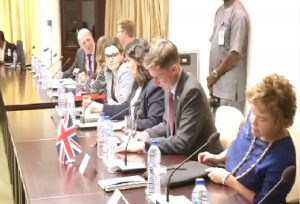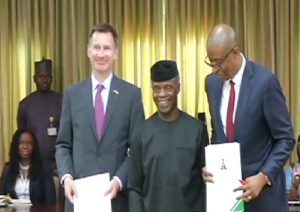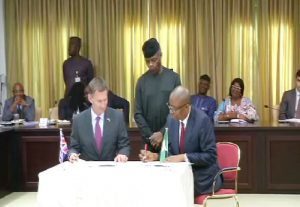 Vice President Yemi Osinbajo says Investor-interest is on the rise in Nigeria based on the tracking of investment announcements which indicates a 37% increase from 2017 to 2018.
Prof Osinbajo disclosed that Nigeria is interested in these announcements, which if nurtured correctly, can be turned into actual investments. This, he said at the first Nigeria-UK Economic Development Forum (EDF) hosted by the Federal Government at the Presidential Villa.Abuja.
Vice President Yemi Osinbajo was a witness to the signing of the communique reached at the end of the Forum by the Minister of Industry, Trade and Investment, Okechukwu Enelamah and the UK Foreign Secretary Jeremy Hunt.
The Economic Development Forum was established in August 2018 by President Muhammadu Buhari and Prime Minister Theresa May in London as a platform to foster economic and development ties between Nigeria and the United Kingdom.
Vice President Yemi Osinbajo said Nigeria has experienced increased investment in the last one year.
Investment interest increased from $66.4 billion in 2017 to $90.9 billion in 2018,
This the Vice President said, is because the administration has invested over N3.5 trillion on infrastructure in the last three years
He also spoke on the relationship between Nigeria and the United Kingdom.
On his part, UK Foreign Secretary stressed that the importance of the Nigeria-UK Economic Development Forum cannot be over-emphasized.
And with a declaration of intent signed, it is now left to officials who will drive the process to ensure that they foster the right environment to do so.