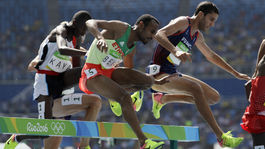 Ethiopian steeplechase runner, Chala Beyo, has been banned for two years for attacking his coach after learning he didn't make the team for next month's world championships in London.
Spokesman for the Ethiopian Athletics Federation, Sileshi Bisrat says the 21-year-old who competed at the Rio Olympics, punched coach Yohannes Mohammed when the team was announced.
The coach needed medical treatment for an injured left eye, and Bisrat says police are searching for the runner.
Chala was carrying a rock when he assaulted his coach, but didn't use it.
He ran for Ethiopia in the 3000 metres steeplechase at last year's Olympics.