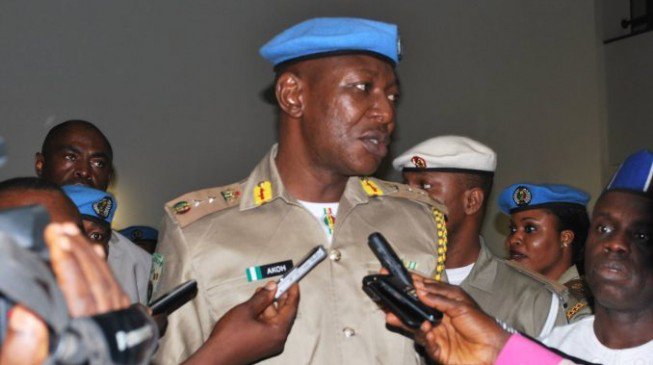 National Commandant of the Peace Corps of Nigeria, Dickson Akoh has been granted bail to the tune of ten million Naira.
Akoh and the Incorporated Trustees of the organisation, are being prosecuted by the Federal Government, on a 90-count criminal charge, bordering on alleged diversion of funds amounting to about 1.4 billion Naira.
Displaying different Inscriptions on Placards, Staff and supporters of the Peace Corps,? converged on the federal high court, Abuja.
After a postponement of his arraignment, the Commandant, was finally arraigned on a ninety count criminal charge, by the Federal Government, to which he pleaded not guilty.
Ruling on his bail application, trial judge, Justice John Tsoho said the defendant shall produce one surety in the sum of N20 million.
The surety shall be resident in Abuja and must be an owner of a landed property in Abuja.
The surety is required to submit details of his residential address which must be verified by the DCR litigation.
As part of the bail conditions also, Justice Tsoho ordered that Dickson Akoh should drop his international passport and can only apply to the court whenever he wants to use it during the course of his trial.
Akoh and his Trustees are also directed to deposit their two recent passport photographs.
The court said the submission made by the Federal government,that the applicant might influence or interfere with police investigations, is speculative and mere apprehension.
Justice Tsoho added that the prosecution has not deposed to any affidavit showing that Akoh jumped bail while on administrative bail.
The defence, say they are ready for trial.
The case has been adjourned to May the twenty third, for commencement of trial.