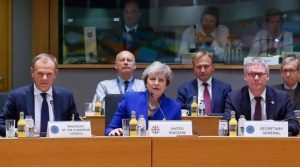 Leaders of the European Union (EU) have restated that the Brexit withdrawal agreement is not open for renegotiation.
European Council President, Donald Tusk who spoke at a news briefing along with Ireland's Prime Minister Leo Varadkar in Brussels, said the EU is not making any new offers to resolve the deadlock over the Brexit deal that failed to make it through the UK Parliament.
In January, the House of Commons voted against the deal agreed by the EU and the UK government and later passed an amendment calling for alternative solutions instead of Irish border backstop clause.
Mr Tusk called on Theresa May to come up with a solution for the impasse.
The UK is set to leave the European Union on March 29.