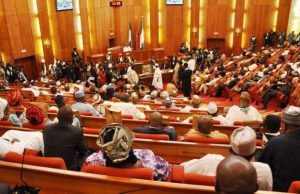 The Senate at Tuesday's plenary has approved a total of $5.5bn loan earlier requested by President Muhammadu Buhari.
$2.5bn (two point five billion dollars) is to be used for financing the 2017 budget while $3bn (three billion dollars) is to be used for refinancing domestic debts.
Presiding Deputy Senate President Ike Ekweremadu after the passage said the upper chamber will continue to support all efforts by the executive to boost the economy as long as such fiscal instruments are for the betterment of the Nigerian people.
The Senate promised to properly oversight all the projects that the loans are meant to support in the outgoing 2017 budget.
The approval followed the consideration of the report of the Senate Committee on Local and Foreign Debts whose Chairman, Senator Shehu Sani asked that the loan be approved as they are in line with the borrowing plan of the 2017 Appropriation act.