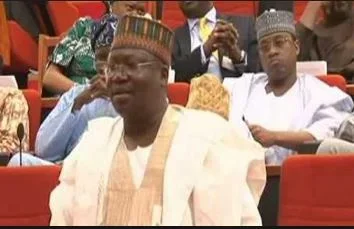 Former Senate Leader Ali Ndume says he tried resigning from his position three times but was asked not to do so by his fellow senators.
Senator Ndume made the statement at Wednesday's plenary where he thanked his colleagues for their support even as Senator Ahmed Lawan assume duties as the new Senate Leader.
Just when many Nigerians thought the process would be rancorous as a result of what many termed a civilian coup, the new Senate Leader, Ahmed Lawan and his predecessor, Ali Ndume shook hands and replaced each other's seating positions.
But just before the business of the day commenced, Ndume was quick to state that he was treated unfairly especially considering that he had previously wanted to resign his position in line with the ruling party's earlier directives but was asked not to do so.
But one of the arrowheads of the leadership change insists that all Senate rules were carefully observed in the no confidence vote.
The protagonists in the leadership tussle are now shifting their gaze to Deputy Senate President Ike Ekweremadu of the Minority PDP as two ranking senators, Abdullahi Adamu and Kabiru Marafa jokingly asked him to decamp to the APC or be prepared for an uncertain future.