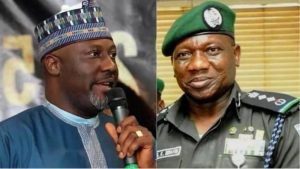 The non-appearance of the Inspector General of Police, Ibrahim Idris before the Senate for the second time in two weeks has got lawmakers considering various ways to handle the matter.
The Senate later extended the invitation by one week, to be briefed on the manhandling of Senator Dino Melaye and National Security issues.
TVC News National Assembly Correspondent Sumner Sambo reports that Senators were prepared to pose questions to the Inspector General Police on the alleged manhandling of their colleague Senator Dino Melaye and on efforts by the police to stop the incessant killing of Nigerians by armed bandits and militia across the country.
But when the matter was read from the order paper, the police chief was yet again, no where to be found again.
Instead, the Senate was informed by its clerk that a Deputy Inspector General of Police had been sent to represent the IGP, just like a week ago.
More updates were asked to be provided by the committee saddled with the responsibility of ensuring the IGP's attendance.
The Senate leadership then went ahead to express its displeasure with a resolution that the invitation to the IGP be extended by a week.
Meanwhile, lawmakers, visitors and staff of the National Assembly were shocked upon resumption of plenary to see heavily armed and masked men of the Department of State Services as well as Policemen guarding the complex, especially entrances to both chambers and the lobby.
After media reports, the masked men were withdrawn but with police presence left to support the sergeant at arms.