A new operational "center of excellence" to be formed by the Turkish National Police is part of a partnership the UK and Turkey have agreed to increase cooperation in combating illegal migration, according to Agence France-Presse.
UK announced the plan on Tuesday as part of its efforts to decrease illegal immigration, a crucial electoral issue.
According to a statement from the interior ministry, the new center, which is funded by the UK, would "enrich existing expertise in both countries with respect to activities aimed at disrupting criminal networks organizing illegal journeys".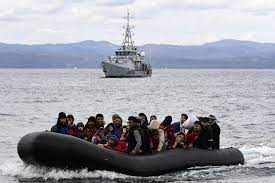 In an effort to dismantle the criminal gangs who control the pathways for illegal immigration, the UK will also send extra officers to Turkey.
The two nations reaffirmed their commitment to collaborating to solve the issue and improve relations with the countries of origin and transit.
The UK government is under intense pressure to prevent unlawful Channel crossings by migrants.
Suella Braverman, minister of the interior, stated when her government announced the agreement, "As I've made clear, we must do everything we can to smash the people smuggling gangs and stop the boats."
Our law enforcement agencies will be able to collaborate on this global issue and address the small boat supply chain thanks to our collaboration with Turkey, a close friend and ally, she added.
The forthcoming UK-Turkey Migration Dialogue, scheduled to take place in London later this year, will aggressively emphasize the new plan.