Defence chiefs from West Africa's regional bloc, ECOWAS, will convene in Nigeria's capital, Abuja, for a two-day meeting starting today, Wednesday to address last week's coup in Niger, according to the bloc's announcement on Tuesday.
The Economic Community of West African States imposed sanctions on Niger and issued a warning on Sunday, giving the junta a one-week deadline to restore President Mohamed Bazoum to office.
The junta was given seven days to reinstate President Mohamed Bazoum, who is currently held captive.
In an earlier statement, the junta stated its opposition to any regional or Western aggression against Niger.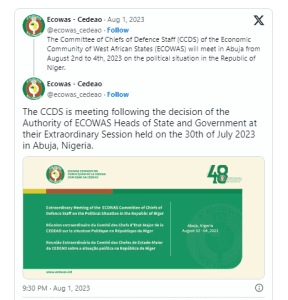 Simultaneously, hundreds of coup supporters demonstrated outside the French embassy in Niamey, the capital.
Following the Sunday conference in Nigeria, ECOWAS vowed "zero tolerance" for coups.
The regional bloc said it would "take all measures necessary to restore constitutional order" if its demands were not met within a week.
The Special Representative and Head of the United Nations Office for West Africa and the Sahel was at the meeting and said ECOWAS had taken decisive action because events in Niger were concerning.
"Niger is playing a key role in fighting terrorism. If Niger stops playing this role this will give more space and more leeway to terrorists to expand in the region," Dr Leonardo said.
He added that "no official negotiations" were taking place between ECOWAS and the country's military junta.
This is the first time ECOWAS has threatened military action to reverse the coups that have taken place in the region in recent years.
It last sanctioned military intervention in 2017, when Senegalese troops were deployed to The Gambia to force long-serving ruler Yahya Jammeh to leave office after he refused to accept defeat in elections.
It is unclear whether he will hold talks with Gen. Abdourahmane Tchiani, the head of the presidential guards unit who has declared himself Niger's new ruler.
The West African leaders also announced the immediate enforcement of a no-fly zone over Niger for all commercial flights, the closure of all land borders with the country, and the imposition of financial sanctions against the junta.
Ahead of their meeting, Gen. Tchiani warned ECOWAS and unnamed Western nations against stepping in.
"We once again reiterate to ECOWAS or any other adventurer, our firm determination to defend our fatherland," the statement said.