The United Nations Children Emergency Fund, UNICEF says it plans to develop a model to combat the out-of-school menace in Nigeria by 2027.
The number of out-of-school children as of May 2023, cannot officially be verified, however a 2022 report by UNESCO estimated that Nigeria currently has approximately 20 million out-of-school children.
The federal government says the country only accounts for 12.4% of the total number of out-of-school children in sub-Saharan Africa.
Experts, however, noted that while UNESCO's statistics were based on out-of-school children aged 6-18 years, the Federal Government only focused on those within the age bracket of 6-11 years, causing the disparity in statistics between the figures presented by UNESCO and the government.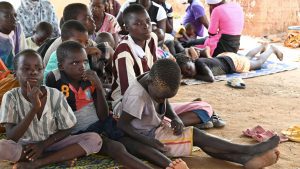 In a country development programme for 2023-2027 as presented by UNICEF and obtained by our correspondent, the UN agency noted that it would develop a sustainable model to tackle the out-of-school children menace.
Meanwhile, Communications Specialist for UNICEF, Geoffrey Njoku, noted during a media dialogue for journalists that the organisation, over the last five years has supported the enrollment of 1.5 million girls in schools across the country using a new evidence-based approach, while five million children continued to learn during the COVID-19 pandemic.
Njoku further lamented that Nigeria ranks 139 out of 156 countries in the Gender Index Gap, noting that many children in the country were deficient in many areas, requiring all hands to be on deck to resolve.