The Kano State Police Command has confirmed the arrest of a State House of Assembly Member, Ishyaku Ali Danja for alleged violent conduct during Saturday's elections.
The State Commissioner of Police, Usaini Gumel who confirmed this in a press briefing with Newsmen, said the Suspect, who is a candidate in the state assembly election for Gezawa Constituency was arrested along with political thugs in several parts of the state.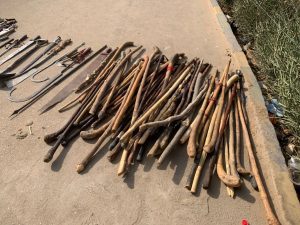 They were alleged to have committed crimes including snatching of ballot boxes, attack of collation centres and attempt to disrupt the peaceful conduct of the election.
161 Political Thugs paraded by KANO POLICE COMMAND for alleged Ballot Box Snatching, Electoral Violence and Attempt to burn down INEC Offices.