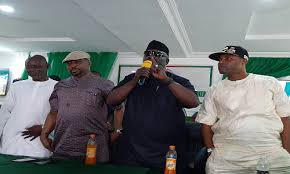 Musiliu Akinsanya popularly referred to as MC Olu-omo has resumed at the Lagos State Secretariat of the National Union of Road Transport Workers as its new Chairman.
He said the Union under his administration will embrace peace and collaborate with the administration of Governor Babajide Sanwo-Olu to build a better commercial transportation system in the State.
With a membership strength of more than a hundred thousand, the National Union of Road Transport Workers in Lagos, accounts for a sensitive part in the commercial outlook of the metropolitan city.
As the Union changes the baton of leadership, members have promised to continue to work with the policies of the Lagos State government in building a mega city.
The union emphasizes its commitment in the advocacy for peace in Lagos, contrary to the notion that NURTW entertains violence.
It is expected that the new leadership will work with Governor Babajide Sanwo-olu in making Lagos a better place.