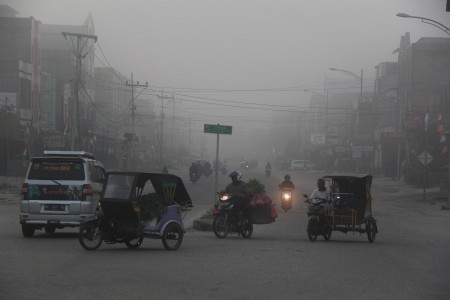 Residents of Indonesia's Kalimantan regency woke up to thick smog on Sunday as forest fires raged in parts of Southeast Asia.
Video filmed by a motorcycle rider who drove through the thick smog showed roads and buildings almost completely covered. He described the situation as one of the worst this week.
Indonesia's air quality index monitor rated the air in the region as "very unhealthy" and residents took to social media commenting about the situation with the hashtag #SaveKalimantan.
Advertisement

Indonesia's environment minister says some forest fires in its territory had started on land used by subsidiaries of Malaysian companies, as the neighbors traded blame for blazes that have spread haze across the region.