Vice President Yemi Osinbajo has invited Canadian investors to explore opportunities in Nigeria in social and physical infrastructure in order to contribute to the changing story of the country's infrastructure.
The Vice President made these remarks in Abuja at the inaugural Nigeria- Canada investment Summit.
Canada is Nigeria's largest trading partners in Sub-Saharan Africa and likewise Nigeria is Canada's largest African investor.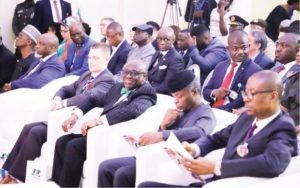 It is what has prompted this inaugural Nigeria-Canada Business summit with a delegation of investors from Canada and indigenous Nigerian businessmen in attendance.
The Nigeria Canada business summit is inspired by Nigeria's economic diplomacy initiative and Canada's preparedness to diversify its investment profile
The Canadian Government is hoping to key in investment and expertise to identify sectors of growth in order to increase trade in the country, but admits that Canada does not have as much trade experience in Africa
To Vice President Yemi Osinbajo the Summit presents the opportunity to explore the immense opportunity for deeper commitment to trade and investments by both countries.
He revealed that the President Buhari's administration two years ago instituted a process of reforms aimed at improving Nigeria's investment environment, which necessitated the formation of the Nigeria Enabling Business Environment Council .
The Vice President is confident that, considering the positive indices of growth in recent years, the prospects of Nigeria as an investment destination is poised to be even brighter
The aim of the summit is to establish Nigeria as an investment destination.