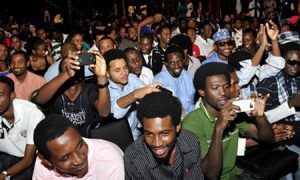 As Muslims in Nigeria join the rest of the World to celebrate the 2017 Eid-El-Fitr, the National Council of Muslim Youth Organizations, NACOMYO, has emphasized the need for government agencies to consult widely before policy is formulated in order to maintain unity and cohesion in the country.
The National President of the body, Kamaldeen Akintunde said NACOMYO wants the Federal Government to take a look at issues raised by the Christian Association of Nigeria (CAN) on the removal of some subjects from school curriculum and do justice where necessary.
He noted that the practice of engaging stakeholders in pursuit of national goal will arrest suspicion, distrust, skepticism and prevent conflict that may affects good intentions of the leaders
The group also called on the Federal government to support religious and traditional institutions in view of their strategic relevance to achieving national cohesion, growth and development.