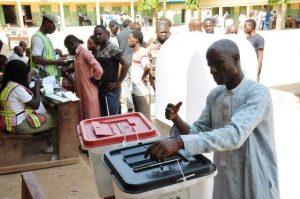 The KOWA Party has called for the cancellation of the Edo State gubernatorial election results following reports of violence and irregularities in certain areas.
Speaking on Thursday, KOWA's agent at the Independent National Electoral Commission (INEC) headquarters in Benin City, Thompson Osadolor had raised called for the cancellation  following the commission's cancellation of results in areas where ballot boxes were snatched or card readers not used for authentication.
He said that since it was obvious that such issues including the open inducement of voters at polling units occurred at different places, INEC should out rightly cancel the entire results and bar parties found culpable from contesting a new election.
His submission was however countered by agent of the  New Nigeria People's Party (NNPP) Joyce Edekere and her Labour Party counterpart.
According to Edekere, NNPP would not back the call for cancellation because it was unnecessary.
"We're not joining the call for a cancellation of the elections because we think there's no justification for such. The elections were fair and INEC gave direct answers to the questions that were raised about elections."
Similarly, Labour Party said the elections were generally peaceful, free and fair, insisting that it was baseless to demand cancellation, considering the resources and time put into achieving the outcome.
"This election was very peaceful. On as much as there were a few issues in some places, INEC has done the accurate thing by cancelling the results of the places affected. We do not see the need for cancellation and we do not support the call."
Of the 18 Local Government Areas result announced, the All Progressives Congress (APC) won 13 leaving the People's Democratic Party (PDP) with five.
Earlier, both PDP and Action Alliance (AA) agents demanded that the votes for Etsako Central released by INEC be recounted on grounds that it differed from the copy they got at the collation centres.