Embattled lawmaker, Senator Dino Melaye, who was arrested by immigration officials during the early hours of Monday at the Nnamdi Azikiwe International airport on his way out of the country to Morocco, has escaped moves by the police to secure his arrest.
Melaye, investigations revealed, was picked up and detained by immigration officials at the airport, following a directive to that effect by the Nigeria Police Force.
Our correspondent gathered that the immigration officials told Melaye that the Police Force had written the service requesting for his arrest as he was not allowed to travel out of the country since his name was on the watch list.
At this point, the lawmaker was said to have challenged the officials demanding to know at what point his name was published as a wanted person on INTERPOL's watchlist.
Unable to provide answers to Melaye's question, the immigration officials nevertheless kept the lawmaker in detention awaiting the arrival of the police force that gave the directive for his arrest.
Our reporter gathered that in between the time of Melaye's arrest and detention by immigration officials, the attention of INTERPOL's Commissioner of Police was sought in a bid to solicit his immediate intervention.
But before the police chief could arrive at the international airport, a vehicle was already on standby and whisked the lawmaker away to an unknown destination.
—————————————————————————————————————–
His Arrest
Lawmaker representing Kogi West Senatorial District, Senator Dino Melaye, has been arrested by the police at the Nnamdi Azikiwe International Airport Abuja on his way to Morocco.
Melaye, made this known in a post on his social media accounts.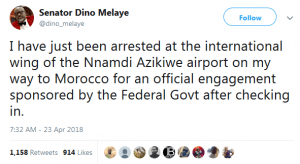 Melaye was declared wanted and placed on Interpol watch list on March the 28 by the Kogi State Command of the Nigerian Police.
He was accused of giving the police false information in connection with an alleged attempt on his life in 2017.
The suspects paraded in March , whom the police said were part of an armed gang terrorising Kogi State, had claimed that the senator was their arms supplier, but Melaye denied the allegations, saying that he was a victim of a "gang up to silence" him.