Youngest daughter of outgoing United States President, Donald Trump, Tiffany has announced her engagement to Nigerian-bred Michael Boulous.
Tiffany, 27, announced the engagement to her 23-year-old boyfriend via Instagram on Tuesday.
She described her engagement to Michael Boulos as the most special of all the milestones she achieved during her family's 4-year stay at the White House.
"It has been an honor to celebrate many milestones, historic occasions and create memories with my family here at the White House, none more special than my engagement to my amazing fiancé Michael! Feeling blessed and excited for the next chapter!" Tiffany wrote on Instagram.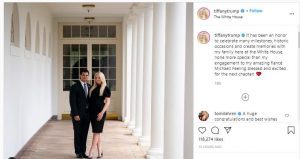 Michael, is the son of Massad Boulos – the Managing Director of SCOA Nigeria PLC which deals in furniture production and interior design, automobile assembly and distribution and power generation, amongst others.
Also confirming the engagement via his Instagram page, Michael wrote: "Got engaged to the love of my life! Looking forward to our next chapter together."
Michael's mother, Sarah, is the founder of the Society for the Performing Arts in Nigeria.
The 23-year-old, whose family moved to Nigeria when he was young, became the Associate Director of SCOA Nigeria in 2016.
Michael also doubles as the Director of Fadoul Group and business development manager of Royalton Investment.
Tiffany's engagement to the business executive is coming on the same day her father is handing over power as the 45th U.S. President to President-elect, Joe Biden.