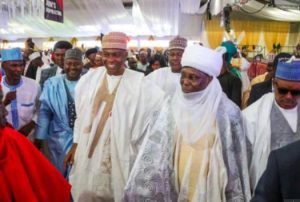 Turbaning ceremony of former Vice President Atiku Abubakar as the Waziri Adamawa Emirate has held in Adamawa state amid pomp and pageantry and a gathering of bigwigs of the Peoples Democratic Party (PDP).
Among those who attended the occasion were former presidents Olusegun Obasanjo,Goodluck Jonathan, Vice President Namadi Sambo, Senate president, Bukola Saraki, former chief of Army staff Kenneth Minima and all PDP Governors.
Yola, the capital city of Adamawa was overwhelmed by the convergence of top dignitaries of the Peoples Democratic Party .
The turbaning of former Vice president Atiku Abubakar, was a colourful affair punctuated with a lot of cultural displays
Dignitaries who attended the occasion, spoke glowingly of the new Waziri Adamawa's achievements.
Former president Olusegun Obasanjo who had until recently been at daggers drawn with his former Deputy, was surprisingly gracious in his remarks
He urged the new Waziri to carry everybody along in the discharge of his new responsibility the way he had handled his former office as former Vice President.
Obasanjo, under whom Atiku served as vice president between 1999 and 2007, said the elevation of Atiku to his new title was well deserved.
President Muhammadu Buhari was represented at the occasion and wished new Waziri peace and prosperity in his reign.
In his acceptance speech, Atiku lauded the native authority and the Northern regional governments, for providing him free education which enabled him to succeed in life, having come from poor background.
He thanked Lamido, for the honour done him, and pledged his irreversible support in the transformation of the emirate council.
Mr. Atiku's new title, Waziri Adamawa, now makes him the second in command in the Adamawa Emirate council.