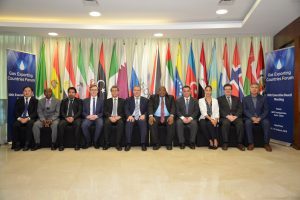 The 20th Ministerial Meeting (MM) of the Gas Exporting Countries Forum has been scheduled to take place next week, November the 14th in port of Spain, Trinidad and Tobago
The meeting is expected to usher in the celebration of the 10th anniversary of the forum, the ministers among other important issues will be discussing current and future energy trends and the role of gas as outlined in the 2018 GECF Global Gas Outlook 2040 and the Annual Statistical Bulletin (ASB), both scheduled to be released in December 2018.
Also to be discussed is the expansion of membership of the Forum through the attainment of membership status by more gas exporting countries.
Meanwhile, a statement disclosed that taking place on the sidelines of the meeting would be a gas symposium, jointly organised by the Gas Exporting Countries Forum and the Ministry of Energy and Energy Industries of Trinidad and Tobago.
"The symposium, which will be addressed by executives of international energy organisations such as the Latin America Energy Organisations, OLADE, International Gas Union, IGU and leading energy companies such as Rosneft, National Gas Company of Trinidad and Tobago, Gazprom and Shell among others, will take place on November 13 at the Hyatt Regency Conference Centre in Port of Spain.
"It will be declared open by the Prime Minister of Trinidad and Tobago the Honourable Dr. Keith Rowley," it added.