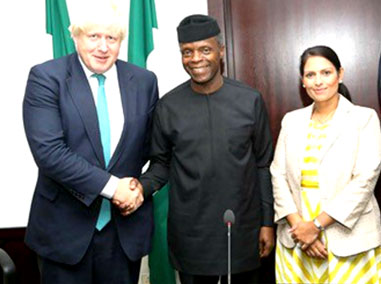 Vice President Yemi Osinbajo has stated  Nigeria's readiness to partner with the United Kingdom.
Prof. Osinbajo stated this when a delegation of UK Ministers led by British Foreign Secretary, Boris Johnson paid him a courtesy visit at the Presidential Villa .
He believes the partnership is achievable as the Buhari administration continues its drive to promote private sector partnership.
Osinbajo who described Nigeria's relationship with the United Kingdom as very crucial, says government is prepared to provide the necessary assistance to private investors looking to invest in the country,
In the area of housing, Prof. Osinbajo stated that Nigeria would be looking to partner with the United Kingdom, adding that government is interested in construction companies with the expertise and technical know-how to deliver mass housing projects across the country.
The UK's Secretary of State for Foreign Affairs,  Boris Johnson,  who spoke to journalists after the closed door meeting  observed that Nigeria has an amazing future, stated that the United Kingdom is partnering with Nigeria in different areas including intelligence sharing in the fight against terrorism.