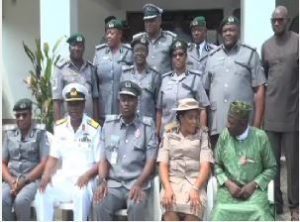 Nineteen senior officers of the Nigerian Customs service have been decorated with new ranks at the Customs Area 2 command in Onne, Rivers State.
The newly promoted officers urged to boost the fight to secure the nation's sea ports.
Correspondent Uche Okoro that seven of them are elevated to Deputy Comptrollers, 10 to Assistant Comptrollers, one to Deputy Superintendent and another to Assistant Superintendent.
It's an honor well deserved but one that comes with added responsibility.
Representatives of the military and other security agencies also urged the newly promoted officers to combine hardwork with humility. Other newly promoted officers promised to not disappoint the service that has found them worthy of this honor.
For officers looking forward to a day like this in their career, customs authorities encouraged them to continue in the line of hard work and diligence.