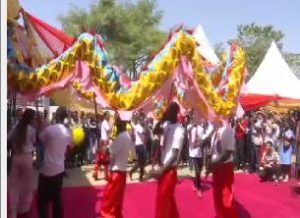 The Chinese Embassy in Abuja said there will be better mutual cooperation between China and Nigeria as the country marks its new year in Abuja.Moyo Thomas reports that China's new year is a lunar festival, also called the Spring festival, which begins with the new moon.  2020 to the Chinese is the year of the gold rat.
The festival is widely celebrated by Chinese everywhere and the Embassy in Abuja was also agog with dance, food and a clear display of culture
Chairman, House Committee on Foreign Affairs, Yusuf Buba Yakub, who described China as a catalyst of change, believes Nigeria has a lot to learn from its cultural values and high industrilization
In response, the Chinese Ambassador to Nigeria, Zhou Pingjian, said the bilateral relationship be tween the two countries will be stronger.