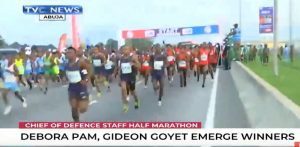 Debora Pam and Gideon Goyet both of the Nigeria Security and Civil Defence Corps have emerged winners at the just concluded Chief of Defence Staff Half Marathon Championship competition which took place in Abuja.
The third edition of the half marathon is tagged "Together We Are".
Helen Osamede Akins reports that Athletes competed in the third Edition of the championship in two categories: the regular athletes and the Veterans category.
The regular marathoners covered a distance of 21.5 kilometres starting from Kubwa Express way and terminating at the Sports Complex of Aguiyi
Ironsi Cantonment
The e Veterans in the other hand covered a distance of 10.8km starting from the Tipper garage along the same express way.
Deborah Pam of the Nigeria security and Civil defence Corp came first in the female Category to clinch The Star prize of One million, one hundred
and fifty thousand Naira, a deep freezer and a DSTV Decoder.
Gideon Goyet clinched the first prize in the Male category and was rewarded with a Toyota Yaris 2018 model. Ayuba Dhairu of the Nigeria Army claimed a Hyundal Elantra as the winner of the Veterans category.
This is the third time Deborah Pam will emerge winner since the inception of the championship.
The half marathon was spiced up with series of side attractions with the heads of the Nigerian Armed Forces and security Agencies all present.