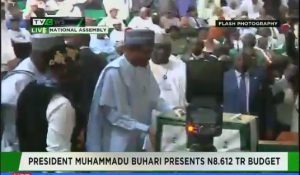 President Muhammadu Buhari on Tuesday presented a budget estimate of N8.612 trillion for 2018 financial year before a joint session of the National Assembly.
Presenting the budget tagged" budget of Consolidation". the president promised Nigerians of better days ahead. He assured the national assembly of his administration's commitment to ensure full implementation of the estimate.
Buhari announced that the budget is projected at an oil price of $45 per barrel and an estimate of 2.3 million barrels per day.
He added that the budget is further projected on an exchange rate of N305 to $1, a real Gross Domestic Growth of 3.5 per cent and inflation rate of 12.4 per cent
Earlier in his address, Senate President Bukola Saraki tasked the federal government over the 2018 budget; saying how the budget is implemented will be the defining moment of the Buhari Administration.
He noted that the country needed to increase non-oil revenue, adding that infrastructure development must be a continuous priority of the administration.
"In the implementation, we must ensure that projects are not overpriced, while people must see a future for themselves in every corner of this country, " he said.
He counselled the Federal Government to eliminate what he described as "unnecessary waste" in the budget implementation.