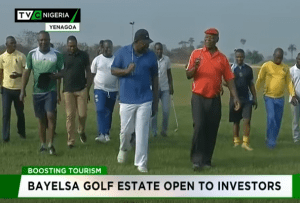 Governor Seriake Dickson said the Bayelsa Golf Estate is part of the new Yenagoa City that will be unveiled to showcase the state as a new tourism hub in Nigeria. He disclosed this when he spoke to journalists at the Bayelsa Golf Course where he partook in a demonstration game to tee off the sport in Yenagoa.
Governor Seriake Dickson is looking at the big picture of hosting national and international events here as part of showcasing the state's tourism potentials.
The New Yenagoa City is evolving the Bayelsa Governor says, and tourism is the major force of attraction to the state.