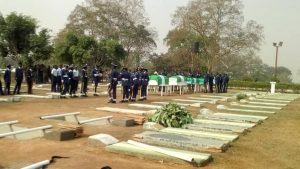 The burial of the five crew members who were on board the Nigeria Air Force Helicopter which crashed in combat on January 2nd is underway in Abuja.
They were providing air support to 145 Battalion, Damasak in Borno when the helicopter crashed.
The deceased personnel, whose remains have been recovered to Maiduguri and are being buried today are:
Flight Lieutenant, Perowei Jacob, who was the pilot in command. Flight Lieutenant, Kaltho Paul Kilyofas, who was the co-pilot. Sergeant Auwal Ibrahim, who was a flight technician. Lance Corporal, Adamu Nura, and Aircraftman Meshack Ishmael, who were both gunners.
The Nigerian Airforce said it would give the five gallant Air men a heroes burial.